Unplug and Ride Your Bike!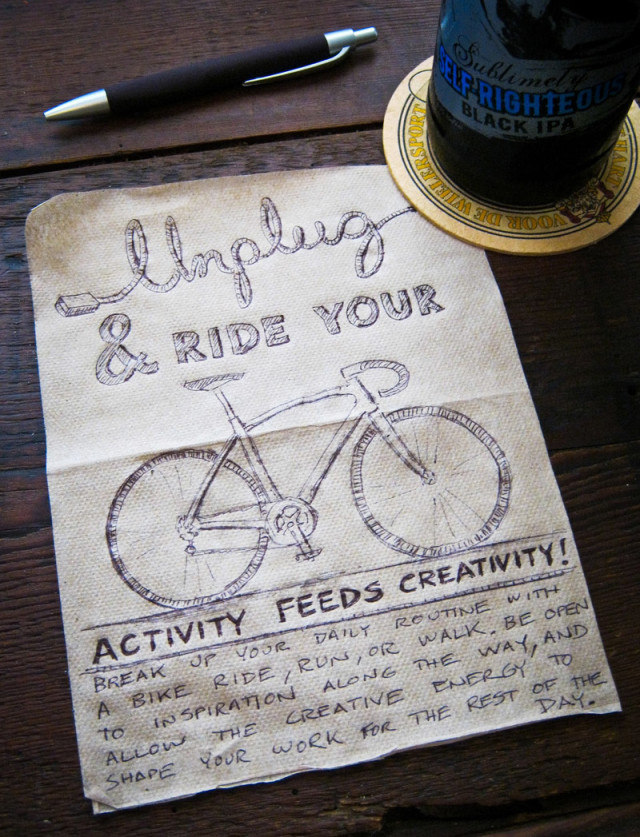 Since May is National Bike Month, the folks at Beer and Napkins asked me to create a bike themed napkin sketch for one of their weekly challenges. The weekly challenge idea is pretty cool, and I had fun participating (even though drawing with a ball point pen on a napkin is not as easy as I remembered). Basically, the concept is to share an idea on a napkin and include three elements- an inspirational or insightful quote, a related doodle, and a related challenge to the community. You can see my sketch above, but be sure to check out some of the past challenges on the site as well. It really is cool idea, and I look forward to seeing new challenges on the site in the future.
The mission of Beer and Napkins is to "Drive an idea revolution by encouraging conversations, connections, and diverse thinking methods in informal grassroots environment", and the weekly challenges and other blog posts are just a small part of that. Idea events are another big component, and one in particular that is of great interest to me will be taking place 6:30 tonight at OpenWorks in downtown Greenville. You can get more information and sign up here (or at the door). It should be a lot of fun, and hopefully will generate some great ideas for the future of the Swamp Rabbit trail. Hope to see you there!