NAHBS 2014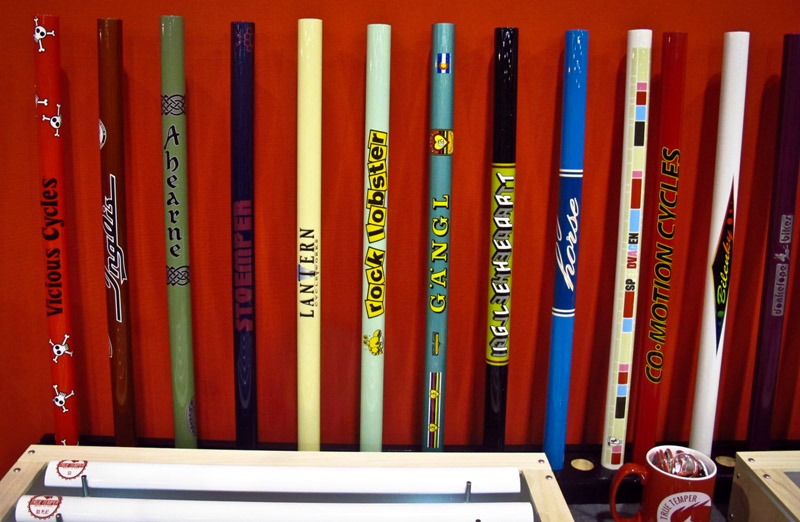 I had a really great time at the North American Handmade Bicycle Show this past weekend.  My son and I drove up to Charlotte on Saturday morning, and we spent the entire day looking at bikes, talking with builders, and generally just enjoying the show atmosphere.  My son is not quite as much of a bike fanatic as I am (not many people are), but he enjoyed the variety of styles and the interesting ideas that he had never seen before. Obviously the experience made an impact, because on the way home he was sketching ideas for a folding bike that he wants me to help him build.  I think we will have a few issues to work though with his design, but I can't wait to hack apart a few old bikes, fire up the torch, and start working on a prototype together. What better project could a father, designer, and bike nut ask for?
Obviously talking bicycles and design with my son was the best part of the day for me, but I want to share a few other highlights in the form of bikes that caught our attention at the show. I won't cover everything that we found interesting, but I encourage you to check out my photos (a couple hundred of them in all) to see which bikes appeal to you.  You can also look at my Instagram feed to see a few of the bikes and details that caught my attention as I walked the show.
So… enough of an intro. A few show highlights for me in no particular order were: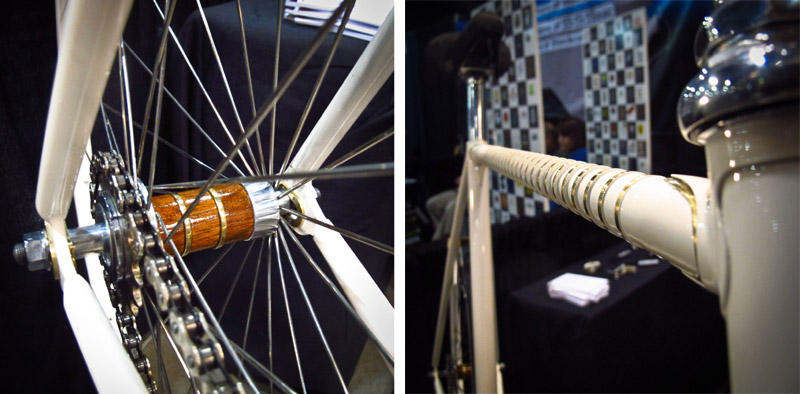 The unexpected details on bikes by Copenhagen based builder Rasmus Gjesing of Cykelmageren. The majority of bikes at the show had handbuilt framesets, but the Cykelmageren bikes took it to the next level with handmade hubs featuring wooden accents, custom wire brake levers paired with handmade polished aluminum calipers, and a tapered top tube with brazed on ring accents. Really beautiful work…and in addition to frames and components, they make tools as well.
Bikes made by students in the University of Iowa's Hand Built Bicycle Program. The program is in its fourth year, and they showed 14 frames and bikes that built by art and engineering students under the mentorship of James Bleakly of Black Sheep Bikes and Tom Teesdale of TET Cycles (I definitely noticed the Black Sheep influence in many of the designs).  In addition to the titanium tandem 36er pictured here, see pictures of some of the other bikes that they brought. I thought the sheet metal yoke to connect the chainstays and bottom bracket on one of the fat bikes was pretty interesting.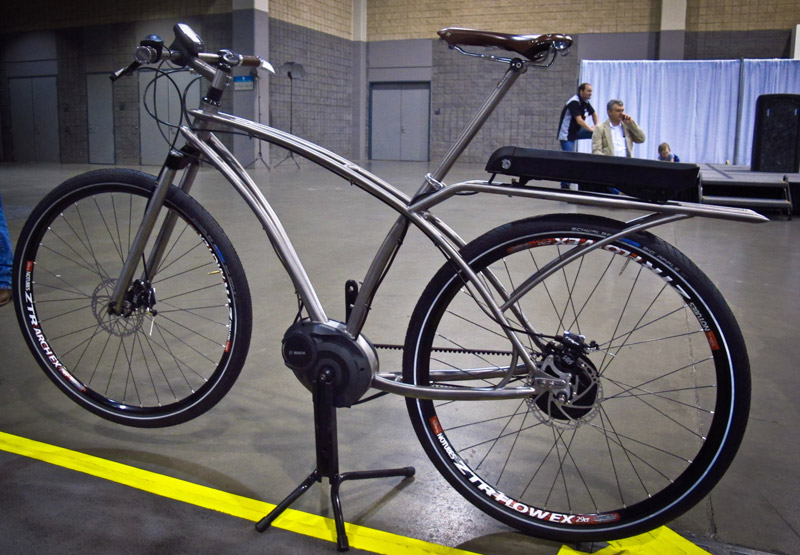 Belt drive e-bikes.  As you might expect, the Gates Carbon Drive booth featured interesting designs from several builders using electric drive systems from Bosch, BionX, and others. The Dean electric cruiser with a Bosch/NuVinci combination was probably my favorite, but there were many other interesting designs that I think provide a glimpse into the future of urban mobility. Todd Sellden, global director of Gates Carbon Drive explained the idea behind the Custom eBike Showcase, "Electric bikes can get more people out of cars and onto two wheels, and we want to expose more Americans to this efficient, affordable, and healthy transportation solution."  That is definitely a goal that I support.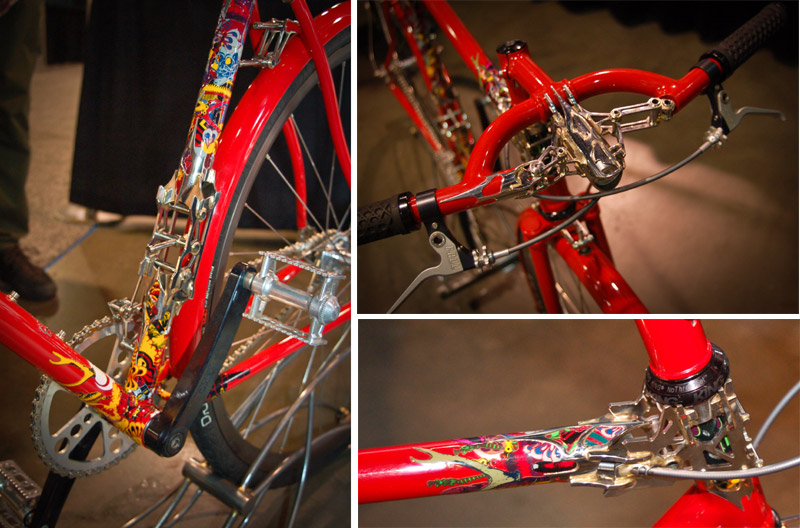 Sunrise Cycles . This bike, built by Yu Takai, featured crazy intricate Transformer-esque lugs and amazing cut paper graphics by artist Takahiro Hagiyama. While the ornate details were primarily for aesthetics, they also served a few functional purposes. The one on the bars housed an integrated headlight and the detail on the seattube allowed for horizontal adjustment of the rear fender (since this was a fixed gear with track fork ends to hold the rear wheel).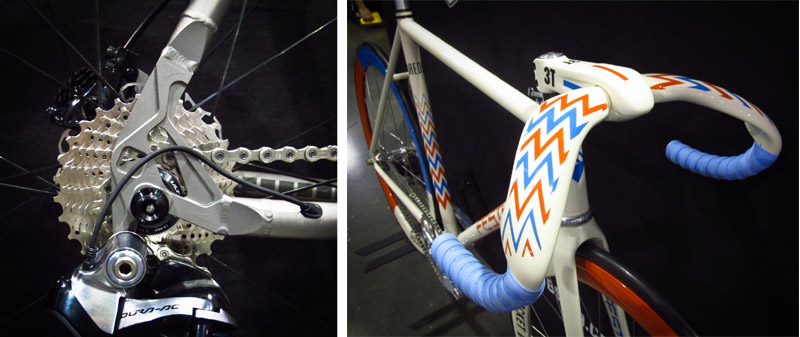 Festka. Something about this Czech company's booth kept drawing me in, and I noticed different details on the bikes each time. They were showing a variety of styles including a titanium cyclocross bike with beautiful CNC machined dropouts, an Evel Knievel inspired track bike with aero drop bars, and a Gates Carbon Drive fixie that was hand painted with acrylic markers.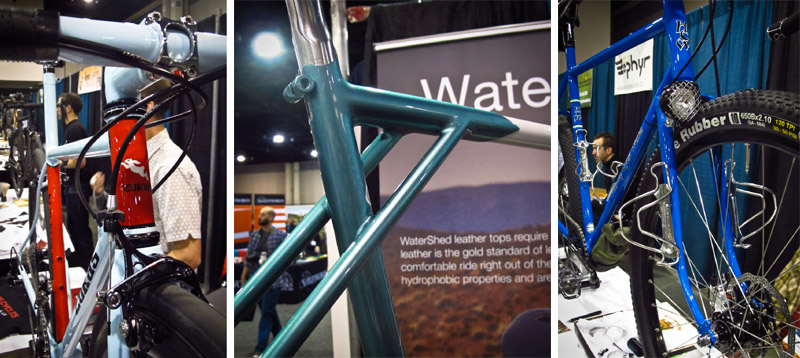 Zukas, AirTight, and Harvey Cycleworks. I was not familiar with these three fairly new builders prior to the show, but I was definitely impressed with their work.  Nate Zukas, a builder from Augusta, GA, had a classic road bike with nice lines and a beautiful paint job (which he did himself).  The asymmetrical seatstays were the detail that caught my attention on Matthew Amonson's AirTight track bike. You can see another of his bikes with that feature here…definitely a detail that I had never seen before.  Kevin Harvey of Harvey Cycleworks brought a nice looking gravel adventure bike to the show, with integrated dual headlights on the fork.
I really could go on and on, because there were so many other bikes and builders that deserve a mention. I can't cover everything that was interesting in this post though, so again I want to direct you to my NAHBS Flickr set  to see much more. Also, check out Cyclocross Magazine for a few of the 'cross bikes that got my attention at the show. A post about the Moots "Suitcase of Courage" travel bike is up now…and there may be a few more there before the week is out.
One response to "NAHBS 2014"